History
Thank you for your interest in the web-site of the MIKES-UTI schnauzer kennel!
Early summer in 1986 I had an oppurtinity to buy black mini schnauzers: three adult females and a male puppy. Taking the advantage of my possibilities at that time I mated my first bitch with an import East-German male. On 10th August 1986 I became a breeder because three tiny minischnauzers were born. I established the Mikes-uti schnauzer kennel at that time. In a few years I had about dozen of black minis and my most ardent wish was to do something newer, nicer and more different than my average breeder colleagues did.
As I am also a genetic I thought that a real challenge would be breeding of white mini schnauzers. For the sake of this cause I took the first steps and on 13th February 1993. I imported my first female from Poland. By the end of the year I had a white couple for breeding and as a type-nationalizer, with them I began breeding the white minis.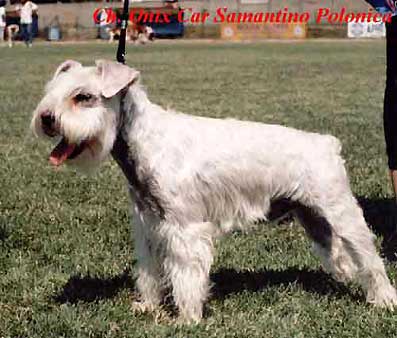 From the middle of the 90s I set as my first aim to develop these two colours in the procedure of forming the new image of the Mikes-uti kennel. I imported dogs for breeding from Belgium, the Netherlands, and arranged import-mating with American, Croatian, Italian, Dutch, Finnish and South-African sires. By the end of the decade my new breeding farm was finished which I want to stock also with the two missing colours.

I imported S/P dogs from Canada, Finland and the Mátraszépe kennel from here, Hungary and B/S dogs from Sweden, America and the Mátraszépe kennel.
I also imported a black mini female from Sweden, white mini females from America and the Netherlands for the sake of increasing the genetic variation of the present dog-group.
Today the dogs from the Mikes-uti kennel can be found all over the world.
In my kennel and among the descendants of my dogs there are countless National, International Champions, ISPU-, Europe-, VDH Europe-, HSPK and PSK Year- and Club Winners, as well as B.I.S., B.O.G., Bundessiegers, Champion of Champions and HSPK Top Schnauzers were born.
The Mikes-uti kennel became the HSPK's Top Kennel in 1999, 2000, 2001 and 2002.
For further questions I will answer with great pleasure:
Paraszt László
masterbreeder
Hungary 3000. Hatvan, Mikes u. 34.
Tel/Fax: (00-36) 37 340-748
Mobil: (06-30) 965-0510
Here you can see pictures of the kennel