Main page
Dear Visitor,
Our site is currently under construction, we are however constantly uploading the pedigree and galery pages of our dogs so please visit us often! At our Mikes uti kennel we breed Berneser Mountain dog and Schnauzer. On this page we would like to introduce our dogs so please select on the top band which breeds of dogs you are interested in.
If you are interested in the Berneser Mountain dog please click on "BERNESE". If you are interested in the Schnauzer please click on "SCHNAUZERS". In the "NEWS" menu you can read about our most up-to-date show results.
About puppies you can find information under "PUPPIES". Should you have any questions please do not hesitate to contact us!
Good Surfing! "Mikes uti"-Team

White mini schnauzer puppies ARE BORN 13.11.2020
After a long-long time white mini schnauzer puppies are in our kennel.
Owner: Laszlo Paraszt
mobil: +36-30-9650-510
e-mail: mikesuti@t-online.hu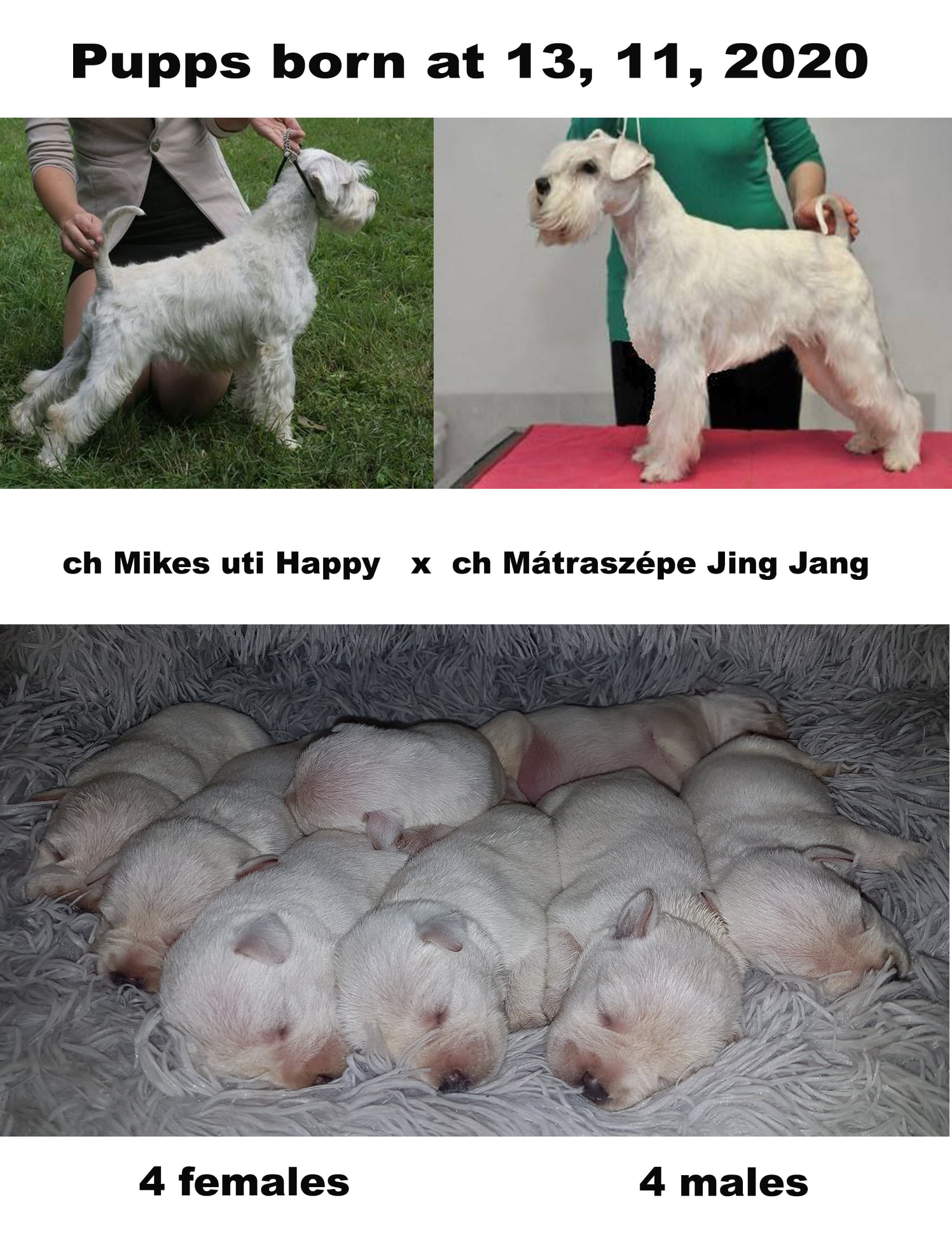 Certificates and pedigree of dad, ch Mátraszépe Jing Jang >>
Certificates and pedigree of mom, ch Mikes uti Happy >>
Puppies>>
More info and pictures here:

B/S MINI SCHNAUZER PUPPIES ARE BORN AT 11.04.2020
After a long time black and silver mini schnauzer litters are in the Mikes uti kennel in Hungary (Hatvan)
Thank for the choice my friends. Could you just wait for the next litters please.
Mikes uti Katinka Mikes uti Sherpa
| | | |
| --- | --- | --- |
| | X | |
Certificates and pedigree of dad, Mikes uti Sherpa>>
Certificates and pedigree of mom, Mikes uti Katinka >>
Puppies:
More info and pictures here:

Owner: Laszlo Paraszt
mobil: +36-30-9650-510
e-mail: mikesuti@t-online.hu
PUPPIES ARE BORN 15.07.2020
Owner: Laszlo Paraszt
mobil: +36-30-9650-510
e-mail: mikesuti@t-online.hu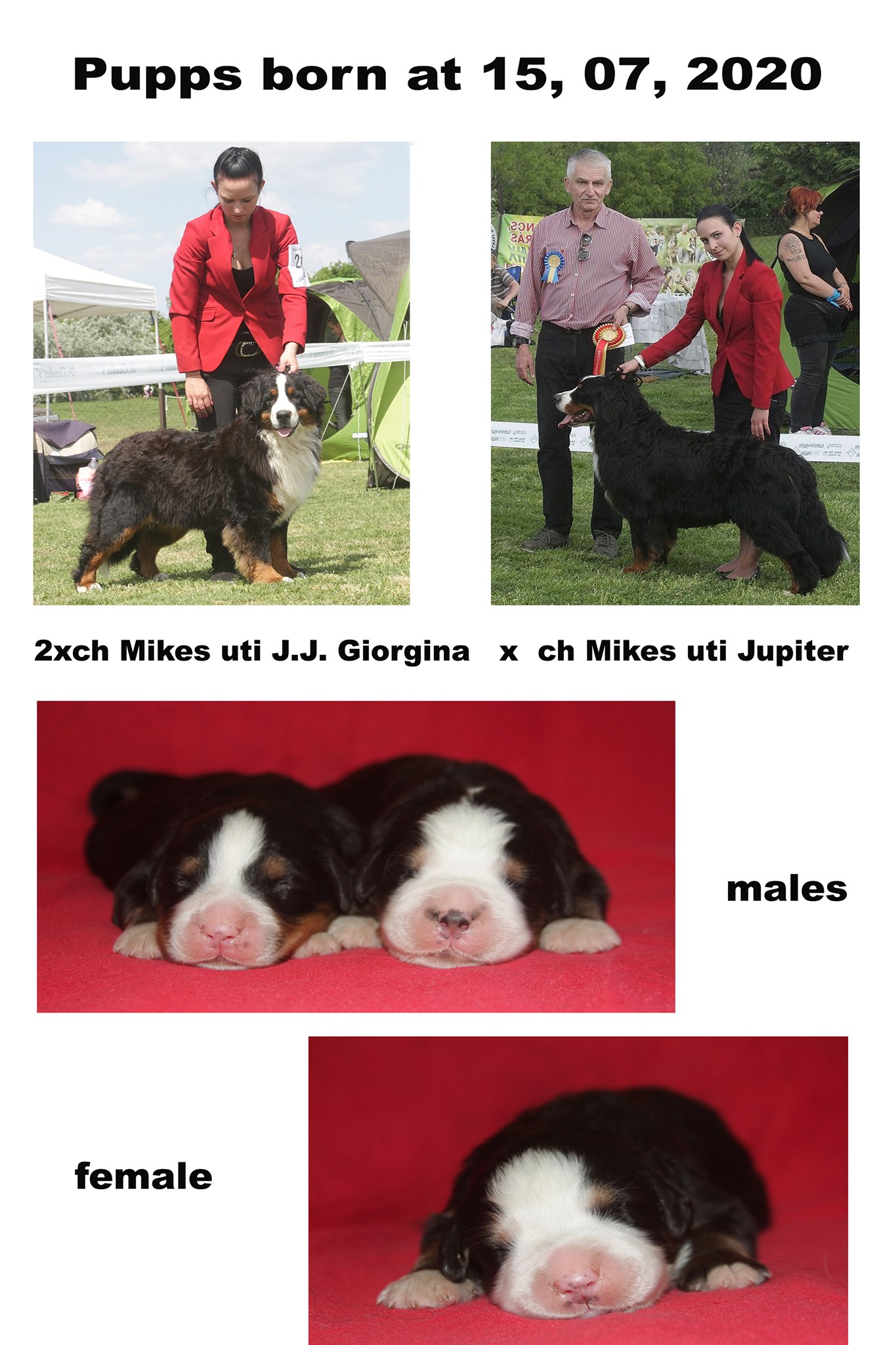 Certificates and pedigree of dad, Mikes uti Jupiter >>
Certificates and pedigree of mom, Mikes uti J. J. Giorgina>>
Puppies>>
More info and pictures here:

------------------------------------------------------------------------------------------------------------------------------------------
In memory of our beloved dogs, who have entered the Rainbow Bridge in 2019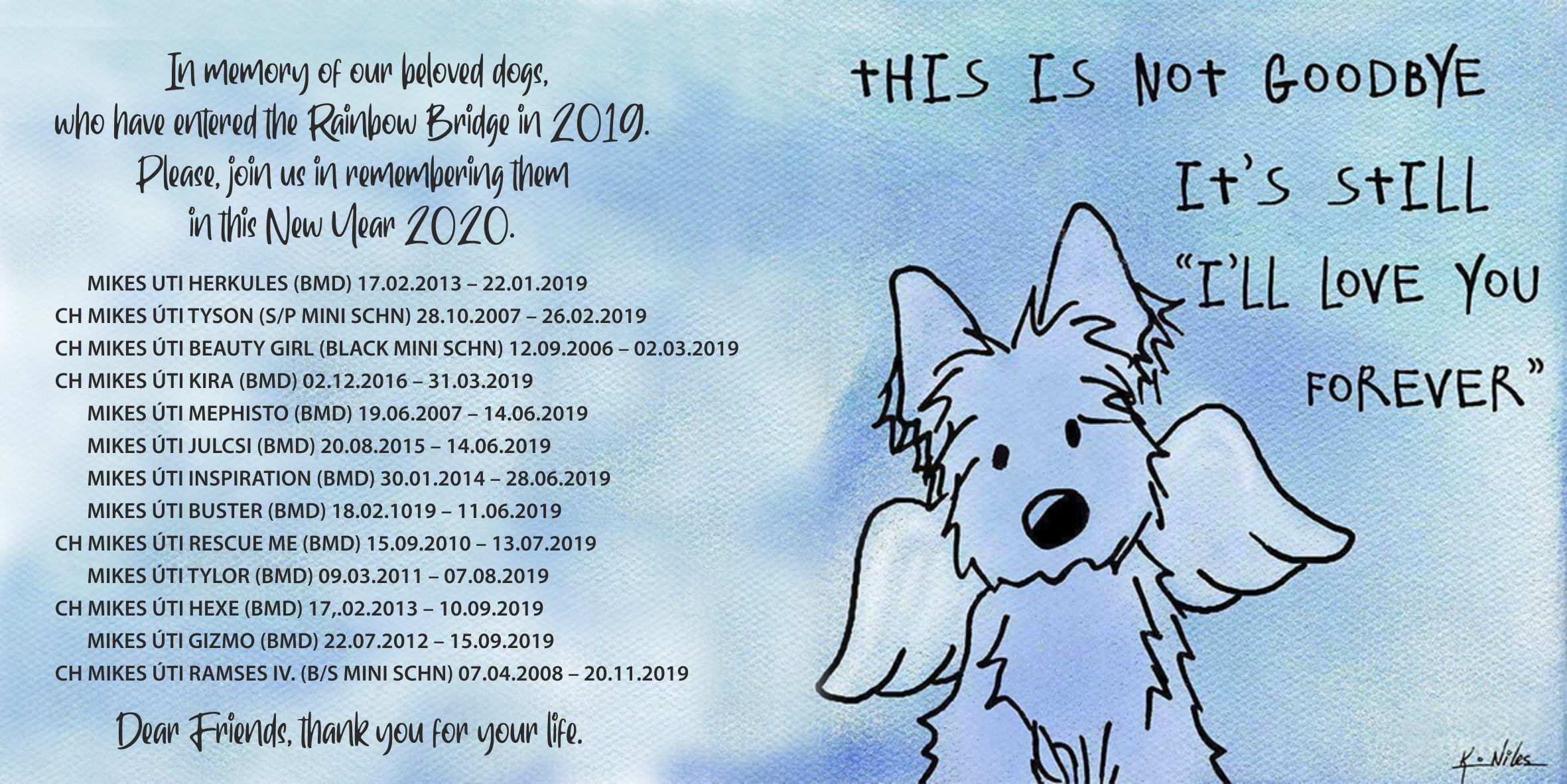 -----------------------------------------------------------------------------------------------------------------------------------------
PUPPIES ARE BORN 21.10.2019
Owner: Laszlo Paraszt
mobil: +36-30-9650-510
e-mail: mikesuti@t-online.hu
Certificates and pedigree of dad, Mikes uti Sid >>
Certificates and pedigree of mom, Mikes uti Ivy >>
More info and pictures here: